Sugar cookies have always been synonymous with the holidays – for good reason. They're simple to make and with very basic ingredients. This recipe is low-carb, keto friendly, gluten-free, and absolutely delicious! The great thing about it as well is that it's a basic cookie recipe that can be expanded upon to make all sorts of cookie variants!
What is the best thickness for sugar cookies?
The best thickness for sugar cookies is about ¼ inch (0.6 cm). This allows it to be thick enough to support any frosting, but still remain a little crunchy. If you prefer a crunchier cookie, I suggest making it a little thinner – like a wafer. These cookies won't spread when they bake, so you don't have to worry about that!
Why cream the butter and sweetener?
Creaming the butter and the sweetener serves the purpose to coat the sugar in fat, so that it doesn't pull moisture away from the flours. Coconut flour is a humidity suck, so this helps keep more moisture for the flours and not for the sugar, yielding a softer cookie that doesn't crumble.
What's the best sweetener to use?
I've tried this recipe with erythitrol, golden erythitrol, and allulose and I'm here to report that they all work fantastically well. The erythitrol doesn't crystallize and doesn't have that cooling sensation after consumption. You really can't go wrong with your sweetener of choice.
Do I need a cookie cutter?
You do not need a cookie cutter to cut cookies from the dough! You can basically use anything that has a thin edge to it (I used a glass with a somewhat cookie sized mouth). However, you want to avoid making cookies with very small or thin sections – they're more apt to fall off the raw dough while moving them, or crumble once cooked.
If you don't need anything fancy, you can simply use a knife to make square/diamond shaped cookies. This bypasses the need to keep rerolling the dough to have enough surface area for the whatever cookie cutter mold you were using.
My dough is too soft when I cut it!
If your dough became too soft while cutting out cookies, or you simply can't keep the cookie together while removing it from the cookie cutter, it means your dough got too warm. Roll it out into a disc again and place it into the fridge (or freezer – wherever you have room) for at least 15 minutes to cool off. By shaping it into a disc, you're creating a greater surface area, meaning it will cool off faster and when you remove it from the cool, it will be ready to cut the rest of your sugar cookies!
Tip: if you're going to be baking all the cookies at the same time, place the other cookies along with the dough to be cooled. This ensures they have equal baking times in the oven. Otherwise, you will end up with some sugar cookies that are browned and others that are still baking!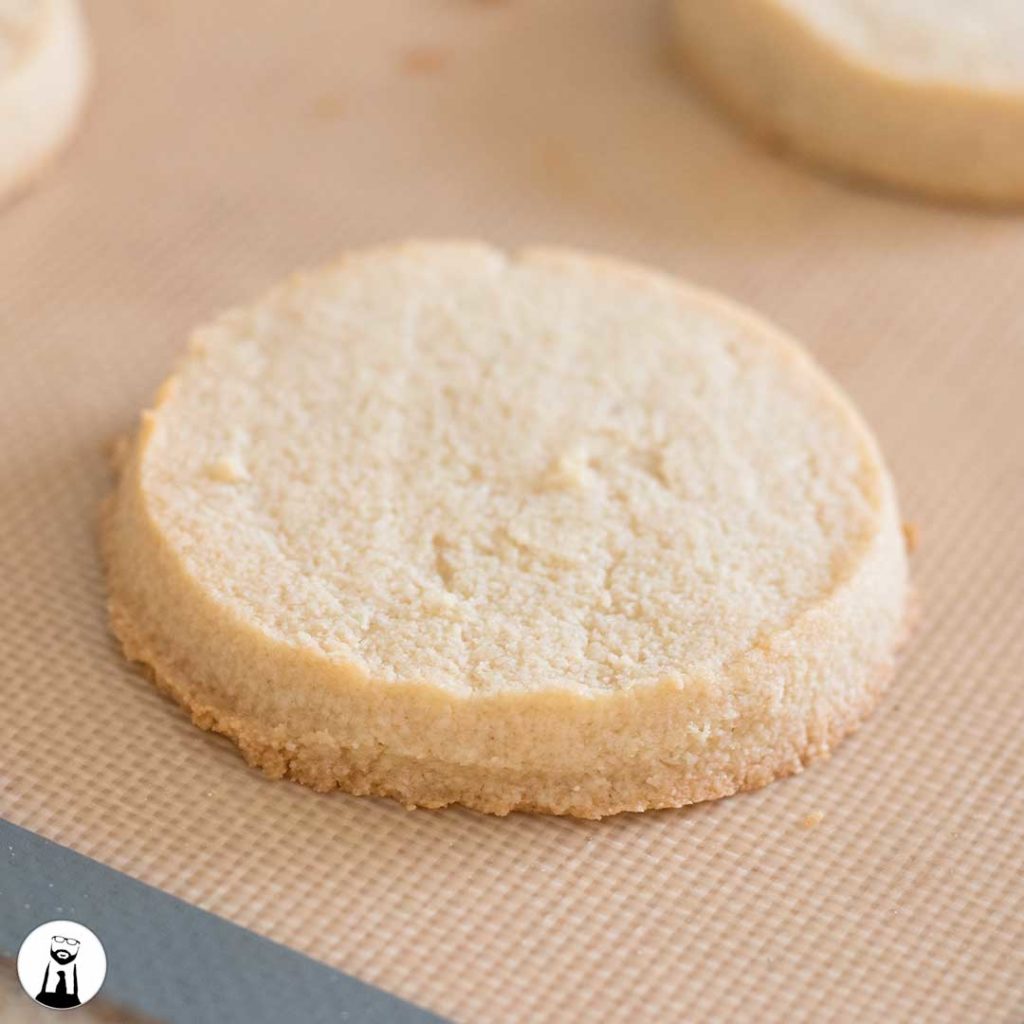 Can these be frosted?
These sugar cookies are perfect for frosting! Personally I've never been a big fan of royal frosting, but I am a fan of cream cheese frosting. Cream cheese frosting won't harden or be as stiff like other frostings, but to me, the flavor is worth the hassle! The frosting I made for these cookies also utilized eggnog which made it a bit more fluid, but again, my goal was flavor and they were delicious.